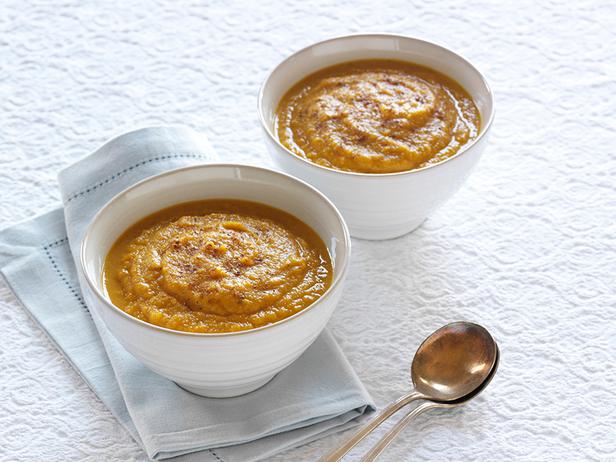 First Course for Thanksgiving
Butternut Squash Soup with Honey
This morning I watched a rerun of Good Eats on the Cooking Channel, and Alton Brown was sharing winter squash recipes. The Butternut Squash Soup with Honey looked so good. It's such a seasonal treat, and it would be a good course for Thanksgiving. That way I'm not serving sweet potatoes and winter squash, which have very similar flavor profiles in my opinion, during the same course.
The Health Benefits of Butternut Squash
Squash, beans, and corn were prized components of the Indigenous American diet. So, it's no surprise that squash is nutrient rich. Organic Authority, one of the resources we use for research, wrote about 8 health and nutritional benefits of Butternut Squash HERE.
The Recipe
Butternut Squash Soup with Honey
Ingredients
6 cups (about 2 large squash) seeded 2-inch wide chunks butternut squash
Melted butter, for brushing
1 tablespoon kosher salt, plus 1 teaspoon
1 teaspoon freshly ground white pepper, plus 1/2 teaspoon
3 cups chicken or vegetable stock
4 tablespoons Bee Wild Gallberry honey
1 teaspoon minced ginger
4 ounces heavy cream
1/4 teaspoon nutmeg
Instructions
Preheat the oven to 400 degrees F.
Brush the flesh of the squash with a little butter and season with 1 tablespoon salt and 1 teaspoon freshly ground white pepper. On a sheet pan lay the squash flesh side up. Roast for about 30 to 35 minutes or until the flesh is nice and soft.
Scoop the flesh from the skin into a pot and add the stock, honey, and ginger. Bring to a simmer and puree using a stick blender. Stir in the heavy cream and return to a low simmer. Season with salt, pepper, and nutmeg.
http://recipes.beewild.buzz/butternut-squash-soup-with-honey/